Hahnemann believed that Homeopathy was a complete system of medicine and was destined to replace conventional medicine entirely. A few modern Homeopaths would still adopt this extreme position today, but most - and certainly almost all medically qualified Homeopaths - recognise that there are many illnesses that demand orthodox treatment. Even Hahnemann recognized that surgery would be necessary in some cases. Nevertheless, because it is prescribed on the patient's symptoms, Homeopathy can be prescribed as a supplementary treatment in almost any situation.
Homeopathy lends itself well to self-treatment, especially for acute disease. It is possible to buy an emergency kit containing medicines that can be used to treat colds, coughs, sore throats, and minor burns, bruises and sprains.
Another field of application is psychological problems. There is certainly a place for Homeopathy in the management of mild to moderate anxiety, depression, and other mood disturbances, but it is not suitable for severe depression or schizophrenia except in the hands of a suitably experienced doctor or psychiatrist.
Children seem to respond particularly well to Homeopathy and they enjoy taking the medicines, which are sweet. Animals, too, can be treated successfully in many cases.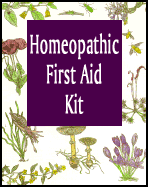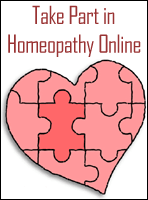 Medicine Of The Day
Latin Name:
Lachesis Mutus

Common Name:
bushmaster, surukuku

Description:
Used for boils and absesses, purplish skin discoloration, hemorrhages, frost bite, inflammed eye lids, sore throat, varicose veins, irregular pulse, angina, and difficulty breathing. This remedy is commonly used to treat hot flashes during menopause, premenstrual syndrome, nervous disorders, nosebleeds, headaches (left sided), fever, hemorrhoids, ulcers and other gastrointestinal complaints. Symptoms are worse from hot drinks, warm baths, and sleep (Lockie 78, Jonas 260).
---
Health Tip of the Day
When your eyes feel tired, take a pencil and hold it upwards touching your nose. The tip of the pencil should be near about your eyebrows. Try to look at the tip of the pencil for a minute or two. This exercise helps to relax the eyes.
---
Health Quote of the Day
The poor cows frozeneglected in a blizzardThey dug them upand ate their gizzards."
- O Anna Niemus
---